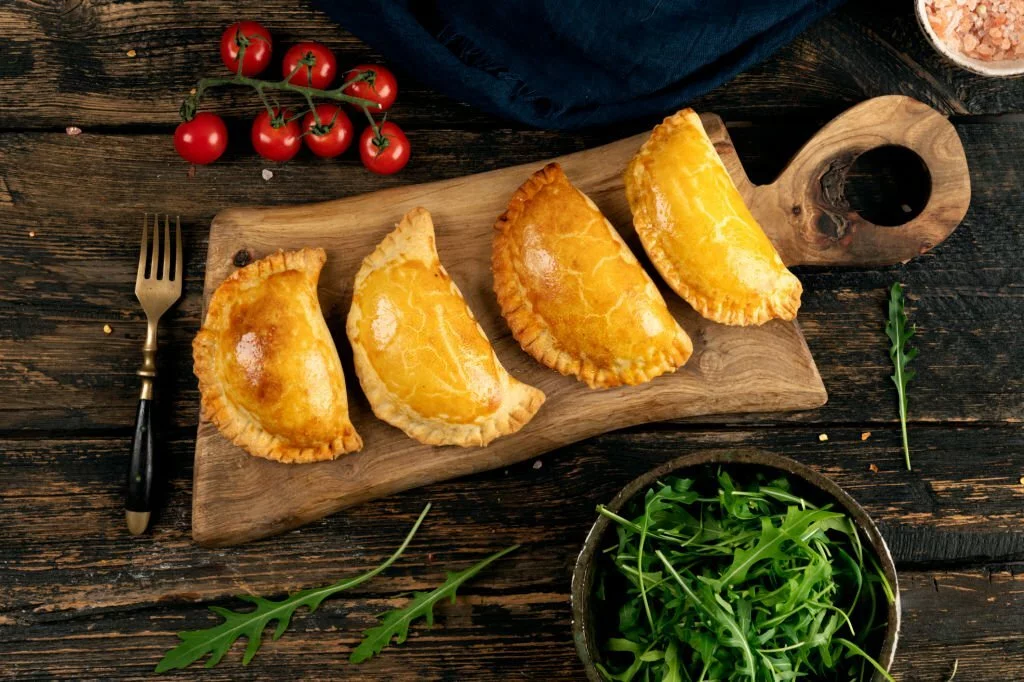 Cooking frozen pasties can be as easy as pie!
If you've got a freezer stocked with these savory delights and you're wondering how to turn them into a delicious meal without breaking a sweat, you're in the right place. We're here to guide you through the simple steps to transform those frozen pasties into piping-hot, golden-brown pockets of goodness.
So, if you're ready to ride on an effortless and rewarding culinary adventure, let's dive right in and discover the secrets to cooking frozen pasties to perfection.
Check that the meat or vegetable filling remains frozen and there are no signs of liquid from thawing meat inside the packaging.
If the pastry is a bit soft but the contents are still frozen, place it in the freezer or proceed with baking your pastries.
We'll guide you through baking a Turkey, Stuffing, and Cranberry Pasty directly from frozen.
The 'T' marking on its uncooked, frozen surface makes the pasty easily distinct.
Make your oven heat 180 degrees Celsius to ensure your pastry cooks evenly. Ensure the baking tray is already inside the oven so the surface is hot when the pastry is placed on it.
While we're not using baking paper or parchment in this example, feel free to use some if you have it on hand.
Now, place the pasty in the preheated oven at 180 degrees Celsius.
Once the oven reaches the desired temperature, carefully position your pasty on the hot tray, placing it on the top shelf of your oven.
About 20-25 minutes into the baking, it's a good idea to rotate the tray to achieve an even bake.
Around 35-40 minutes in, you'll notice liquid bubbling through the markings on top or along the crimp seam. This is a sign that your pasty is nearly cooked.
When baking a frozen pasty in a preheated oven at 375°F (190°C), it usually takes 30 to 40 minutes for the cooking process to complete. This time frame should ensure your pasty is thoroughly cooked with a golden-brown crust and a piping-hot filling. Cooking times may vary based on pasty size and thickness. Check doneness with a fork or toothpick in the center. When it's hot, it's ready to eat.
No, there's no need to thaw frozen pasties before cooking. You can use the freezer to cook them directly. Thawing is not required; cooking them frozen will give you the best results, ensuring a crispy, golden-brown crust and a piping-hot filling.
Start by taking the frozen pasty and placing it on a microwave-safe plate. Ensure the pasty sits flat on the plate to facilitate even heating.
Most microwaves have different power settings, usually low, medium, or high. For best results when heating frozen pasties, it's recommended to use the "defrost" or "low" power setting. This lower power setting allows for more gentle and even heating, reducing the risk of the pastry becoming too soft or soggy.
Microwave the pasty in short intervals, typically 1-2 minutes each. The exact time may vary depending on the microwave's wattage and the size of the pasty. The goal is to heat the pastry gradually to prevent the pastry from getting overly soft.
After each microwave interval, carefully remove the pasty from the microwave and check its temperature and texture. Avoid overcooking, which can make the pastry overly soft and less enjoyable.
Depending on your microwave's configuration, you may notice that one side of the pasty is heating faster than the other. To ensure even heating, gently flip the pasty over after each interval. This helps distribute the heat more evenly.
Repeat the microwaving process in intervals until the pasta is heated through. Typically, it takes about 3-6 minutes in total, but this can vary depending on the microwave's power and the size of the pasty.
Once the pasty is heated to your satisfaction, carefully remove it from the microwave. Be cautious, as it will be hot. Let it rest for a minute or two before enjoying it. This short resting period allows the heat to distribute evenly throughout the pasty and ensures it's safe to handle.
Cooking frozen pasties in an air fryer is a fantastic way to achieve a crispy, golden-brown crust without deep frying.
Here's a step-by-step guide on how to do it:
Ingredients
.Frozen pasties
Preheat Your Air Fryer
Bring the air fryer to 375°F (190°C). Preheating ensures the pasties start cooking immediately and helps achieve a crispy exterior.
Arrange the Pasties
Make a single layer of frozen pasties within the air fryer basket for optimal cooking results.
Cook at the Right Temperature
Set the air fryer to the recommended temperature of 375°F (190°C). This temperature works well for cooking frozen pasties and gives you a lovely crispy crust.
Cooking Time
Cook the pasties for approximately 15-20 minutes. Keep an eye on them and flip them halfway through the cooking time. Flipping ensures that both sides of the pasty get evenly crisped.
Check for Doneness
Check your pasties' internal temperature with a meat thermometer to ensure they are fully cooked. Cooking the filling to an internal temperature of 165°F (74°C) guarantees it is thoroughly heated. Don't take any chances with your health - ensure this crucial step is not skipped!
Serve Hot
Once your frozen pasties have a beautiful golden-brown color and are heated through, carefully remove them from the air fryer basket. Let them cool for a minute or two before serving to avoid burns, as they will be very hot.
Quick FAQs
Q: Can I cook frozen pasties without thawing them first?
Yes, you can cook frozen pasties directly from the freezer. There's no need to thaw them beforehand.
Q: What is the recommended oven temperature for cooking frozen pasties?
Preheat your oven to around 375°F (190°C) for best results when cooking frozen pasties.
Q: How do I know when my frozen pasty is fully cooked?
To check for doneness, insert a fork or toothpick into the center of the pasty. With its piping-hot filling and golden-brown crust, your pasty is ready to be savored. Take advantage of the delectable flavors and textures.
Q: Can I cook frozen pasties in an air fryer, and if so, what's the cooking time?
Yes, you can cook frozen pasties in an air fryer. The cooking time may vary, but generally, 15-20 minutes at 375°F (190°C) should give you a crispy result.
Q: Are there any variations in cooking times for different types of frozen pasties, such as meat or vegetable fillings?
Cooking times can vary slightly depending on the size and thickness of the pasty, but as a general guideline, 30-40 minutes at 375°F (190°C) works well for most frozen pasties, regardless of the filling.